Cavispa RF Core EX
Pentrated into deep muscles with double wave EMS!
Equipped with a BUST Mode, enabling total care for the whole body In addition to the waterproof feature, the device is equipped with radio frequency/cavitation/EMS functions which are popular beauty salon/spa treatments. Cavitation targets the areas of concern by vibrating the skin with powerful 330 kHz ultrasound waves. "Double-wave EMS is a limited function only available for Cavispa Core EX, reaching inner muscles with its combined waves of medium and low frequencies. In addition, the device is equipped with a BUST Mode, realizing total body care for the face, body, and bust.
Chosen #1 for 4 years in a row
"Marketing Trends Data for Beauty Appliance/Health Appliances 2020" (Fuji Keizai Co., Ltd.)
Performance for 2018–2019
"Marketing Trends Data for Popular Home-care Facial Beauty Device in the New Normal" (Fuji Keizai Co., Ltd.) Performance 2020-2021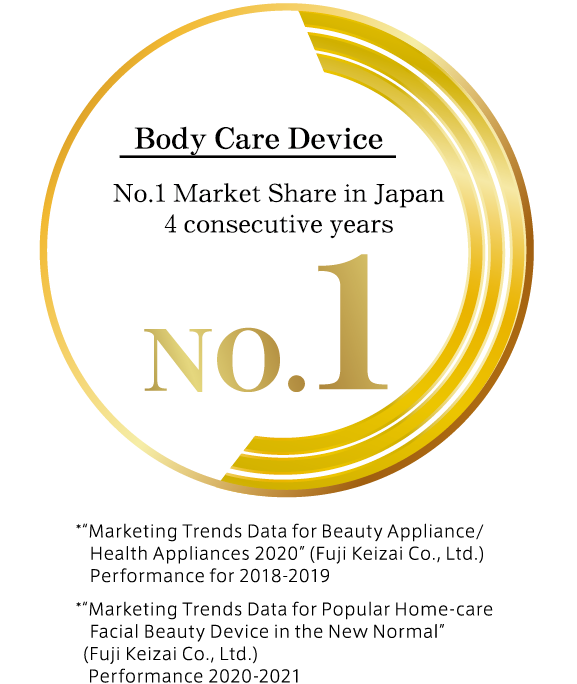 Features
3-in-1! A complete body care beauty device
YA-MAN's unique new technology and design have created 1 MHz radiofrequency warming function which warms the skin deeper,* targeting broader areas with less time.
*: Penetrates to stratum corneum
SONIC (cavitation)
Equipped with 120% Powered Cavitation!*
Treatment that vibrates the skin with 330-kHz ultrasound waves. Stimulates the skin with cavitation for silky smooth skin.
*: Compared with conventional YA-MAN products
Note: The levels cannot be adjusted.
*Vibrations automatically strengthen and weaken.

*This video shows an experiment confirming that it is possible to melt lard using the cavitation function of Cavi Spa RF Core. The video was filmed in a special experimental environment. Do not attempt to replicate the experiment at home, as this may cause the product to malfunction.
RF (Radio Frequency)
Treatment that warms the skin both deeply* and for a long periods of time!
Radio frequency (RF) is a function that has been researched for the purpose of warming the skin using high frequencies. Using 1-MHz radio frequencies (which are also used at Professional Salon and Spas) to warm the skin creates more appropriate conditions for treatment.
Unlike a commonly used heating type, this device is characterized by its ability to warm the skin both deeply* and for a long periods of time. Use at a level where the area of treatment becomes warm gradually and feels comfortable.
*: Penetrates to stratum corneum

*The device shown in the video is HRF-17: Cavi Spa RF Core
EMS
Also recommended for those who dislike exercising!
This device "exercises muscles through direct electrical stimulation to the" muscles. This popular device stimulates the muscles simply by placing it against the skin, making this a perfect solution for those who do not like exercising. Be sure to use the device at a level that feels comfortable.
Note: Do not increase the level to the point where you feel an unpleasant tingling sensation.
*Sensations may be felt differently when using the device under and out of water.
*The device shown in the video is HRF-17: Cavi Spa RF Core
BUST Mode
Equipped with 'BUST Mode' for caring for the bust area!
If you're becoming more and more concerned about your bust lacking its firmness, the reason may be that the muscles around your bust (pectoralis major) have weakened. The BUST Mode of Cavi Spa RF Core EX reaches the difficult-to-exercise muscles around the bust efficiently with radio frequencies and double-wave EMS, specially developed for bust care. The important point of this function is that the skin is lifted from the back and moved to the bust. BUST Mode cares for the bust area by maintaining a beautiful body contour.

Turn your bath time into beauty treatment time
The device's main unit is waterproof (equivalent to the IPX7), making it possible to use the device during bath time.
It is said that metabolism generally rises collaterally with body temperature. Use the device during your relaxation time in the bath to achieve efficient body care.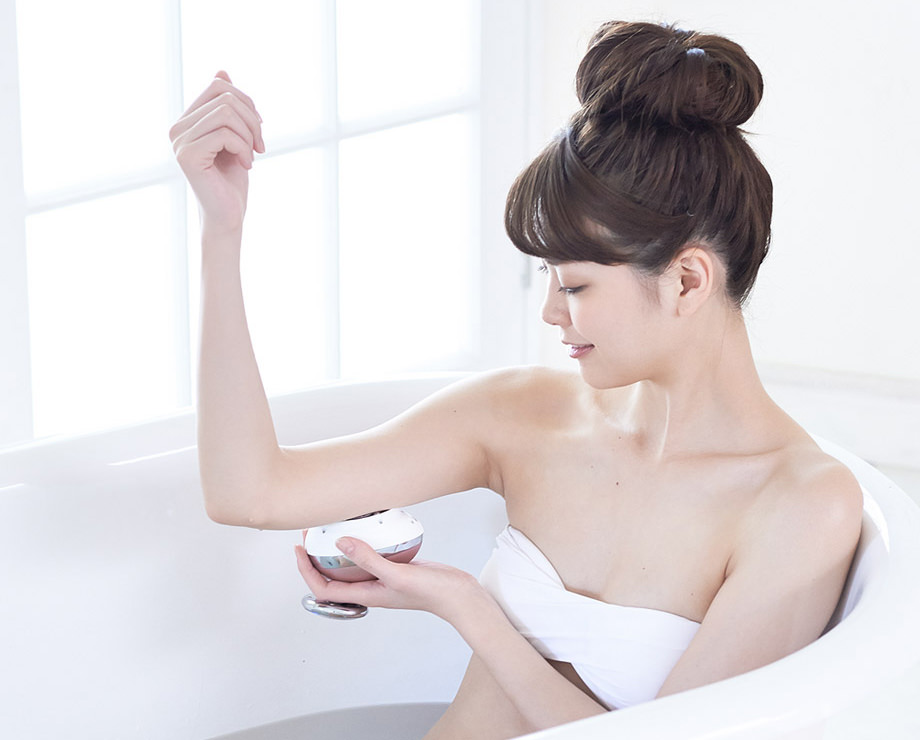 Design simplicity and comfortable usage
A round-shaped design that fits in the palm of your hand
Taking into a consideration of how the hand moves when the device is being used, this product was designed as round-shaped and able to fit in the palm of your hand.
Simple button operation
Push and hold any mode button to switch the device on or off. Press any mode button to switch modes.
Adjust the level to suit your preferences
It is possible to select the RF output level (3 levels) and EMS level (6 levels) according to your preferences or how you are feeling on that day. Please select the intensity level you feel most comfortable with.
Automatic-off safety function
The device will automatically switch off 10 minutes after it has been turned on. In addition, if the temperature sensor determines that the main unit is overheating, the device will automatically switch off.
*Equivalent to the IPX7 waterproofing level (JIX specifications). The device can be used while you are taking a bath or showering.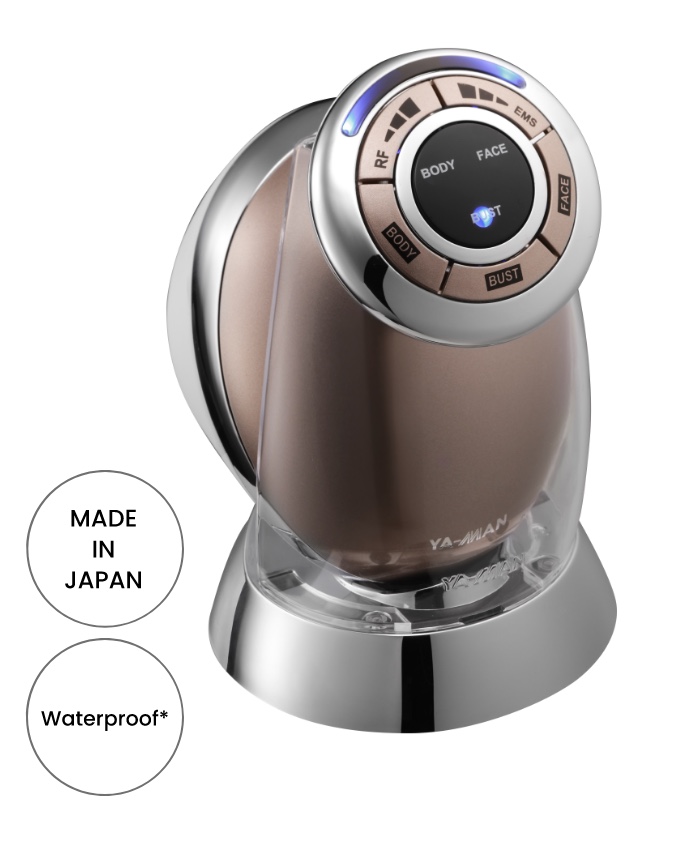 YA-MAN's original Double-Ring Electrode

To enable you to utilize 1-MHz RF (radio frequency) efficiently at home, Cavispa RF Core has been equipped with YA-MAN's original Double-Ring Electrode. This electrode provides authentic beauty-salon-level care, with the bumps on the electrode massaging away tension as a wide area of skin is deeply warmed.
A made-in-Japan beauty device loved by the world

YA-MAN is the specialist in manufacturing beauty devices that has been leading the industry for over 40 years. Cavispa series is a made-in-Japan beauty device developed by YA-MAN. Its cutting-edge technology is applied to home beauty devices. Enabling users to have authentic body treatments, the quality of the Cavispa series is loved by people throughout the world.
How to Use
Efficient body and face care combining 3 functions
This device enables you to treat areas of concern with your preferred operating mode.
When first beginning to use the device, be sure to operate radio frequency (RF)/EMS functions at Level 1 until you become familiar with the device.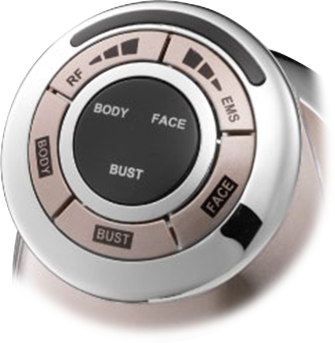 SPEC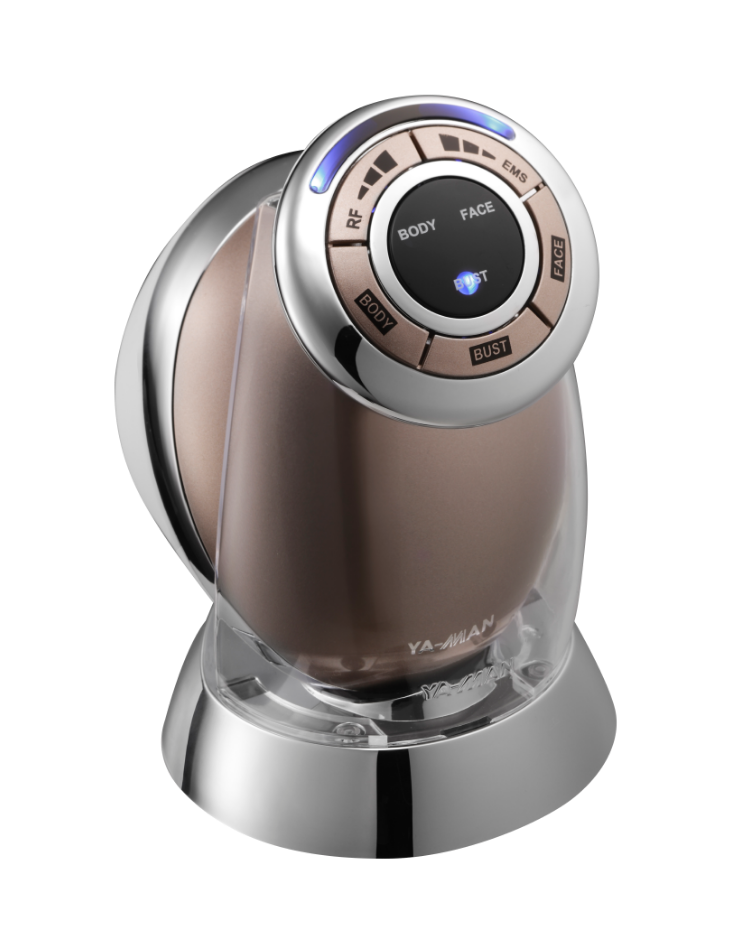 Product Code

HRF-18T

Product Name

Cavispa RF Core EX

Functions

RF 1MHz

CAVI 330kHz

Waterproof


Global

Charging Time

approx. 3 hours

Operating Time

approx. 30 min.

Recommended Usage

2-3 times a week (for each body part)

Size

approx. W83 × D116 × H97 mm

Weight

approx. 307g

Country of Origin

Japan

Accessories

AC adapter, Stand, USB charging cable, User's Manual
FAQ
Can I use the device in the bathroom?

Yes. The device is waterproof, so it is possible to use it in the bathroom (equivalent to IPX7). However, please do not leave the device submerged in hot or cold water for an extended period of time. Do not use the device in hot springs (spas) or warm water containing bath salts. Also, if it is difficult to move the device, place it gently against the skin while moving it.
Is there a recommended way of using the device?

We recommend that you use the device while you are bathing or just after your bath, when your body is warmed up. Use the device to loosen your muscles and relax your body.
Can the device be used in a sauna or rock spa?

Never use the device in a sauna, rock spa, or other hot place, as the device could overheat and cause burns.
Can I use the device in places other than the bath?

Yes. When using the product in a room other than the bathroom, please be sure to apply water or gel. If your skin is dry, it will be difficult for ultrasonic waves, RF and EMS to be transmitted to your skin.
Is it OK for me to use the device if I have sensitive skin?

Please refer to the "Skin Pre-testing" section (p. 13) when using the product for the first time and check the condition of your skin. If your skin experiences no abnormalities, use the device normally.
If you perceive any skin abnormalities, stop using the device immediately. If you are uncertain as to whether it is safe to use the device, consult a physician prior to use.
What kinds of cosmetic products should I use?

You can use your regular skin lotion, beauty serum, or gel. However, do not use the following cosmetics, as their use with the device may cause skin problems or damage the device.

Cosmetics not appropriate for use
- Oils
- Scrubs
- Body soap
- Invigorating skin lotions
- Lotions or massage gel with warming effects
- Lotions or massage gel with fat-burning ingredients