Photo PLUS Prestige PRO
YA-MAN's ultimate model*, the RF facial beauty device that brings together the best of technology
*As of March 2022
Chosen #1 for 4 years in a row
"Marketing Trends Data for Beauty Appliance/Health Appliances 2020" (Fuji Keizai Co., Ltd.)
Performance for 2018–2019
"Marketing Trends Data for Popular Home-care Facial Beauty Device in the New Normal" (Fuji Keizai Co., Ltd.) Performance 2020-2021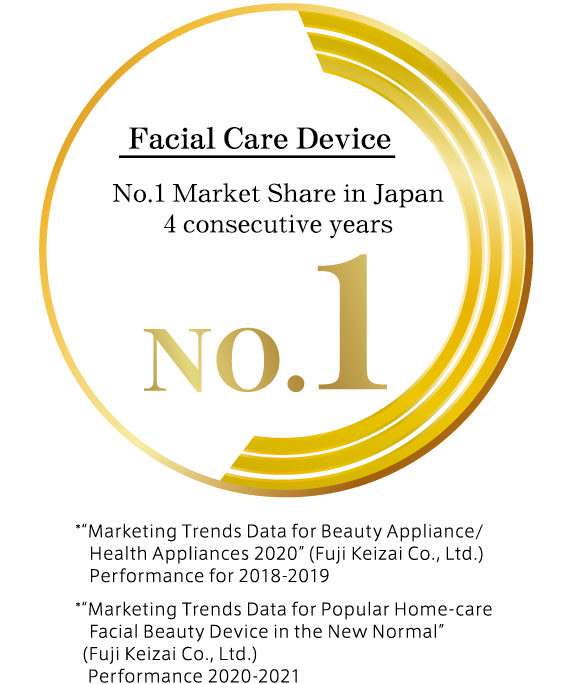 Over 3 million units sold from our RF Beauty Device Series*.
*Total number of products in the RF beauty device series shipped between October 2013 and the end of August 2020 (Source: in-house research)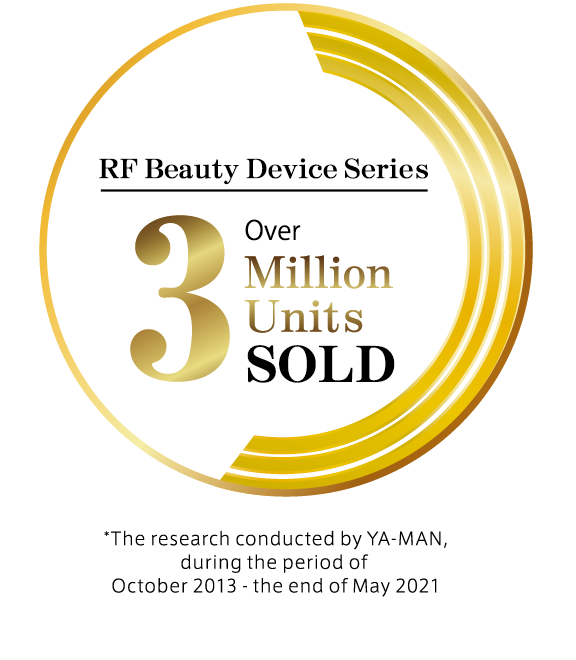 Features
The ultimate*1 Absorption Technology*2 x High-Frequency EMS = NEO DYHP
The 3MHz Radio Frequency will deeply warm up tissues while the high absorption technology of NEO DYHP will effectively deliver hydration and firmness to skin. In addition, 30% more powerful EMS will stimulate the the facial expression muscles for a lifted appearance.
*1 As of March 2022
*2 Up to the stratum corneum
MODE
Selecting an efficient treatment
10 functions are optimally programmed into four modes.
Provides several popular beauty salon treatments in one device. The four modes work on skin concerns from various angles.
CLEAN
Gradually warms up the skin, absorbing pore grime
The double effect of RF + ions absorb any grime remaining on the face which is difficult to remove throroughly with just face washing alone. At the same time, the device provides lifting care* with EMS.

RF (radio frequency)/EMS (high-frequency waves)/ion emission/red LED/vibrations.
*Moving the device in an upward direction

NEO DYHP
Delivers beauty ingredients to stratum corneum. 30% more powerful EMS will stimulate the the facial expression muscles for a lifted appearance
YA-MAN's new and exclusive absorption wavelength technology NEO DYHP will help penetrate beauty ingredients throughout the skin*1. The red and orange LEDs will simultaneously treat your skin.
In addition, 30% more powerful EMS*2 will stimulate the the facial expression muscles for a lifted appearance.

*1 Up to the stratum corneum
*2 Compared to M20
EYE
Genuine eye-area care with the RF warmth and micro-current
Treatment stimulates the muscles around the eyes with a low micro-current which firms the skin, while the area is warmed with RF.

RF (radio frequency)/micro-current/vibrations.
COOL
Use COOL mode after all treatments
Cooling + Light (Blue Light) tightens the skin

with Cooling, Blue LED Light, and vibration.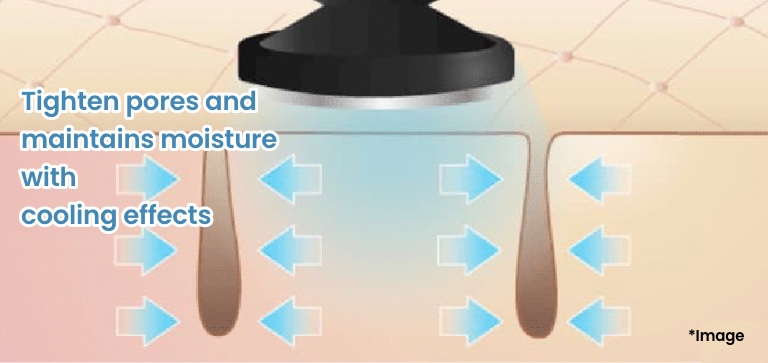 EYE CARE
A specialized head for the delicate eye area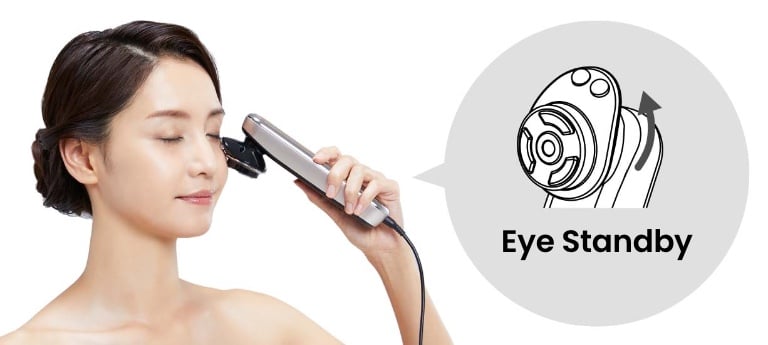 The device is equipped with a new specialized eye-care head that swivels 180°, enabling it to fit gently to the delicate skin around the eyes.
Treatment for the eye area using RF (radio frequency) + micro-current.
The device treats the skin with a low micro-current and stimulates the muscles around the eyes, while warming with RF. The device gently and efficiently cares for the area around the eyes, where signs of aging can easily appear.
How to Use
1. Preparation
2. Select a Mode
Switching to Eye Mode
Swivel the head 180° to switch between Eye Mode and Standby Mode.
*The head only swivels as far as 180°.
SPEC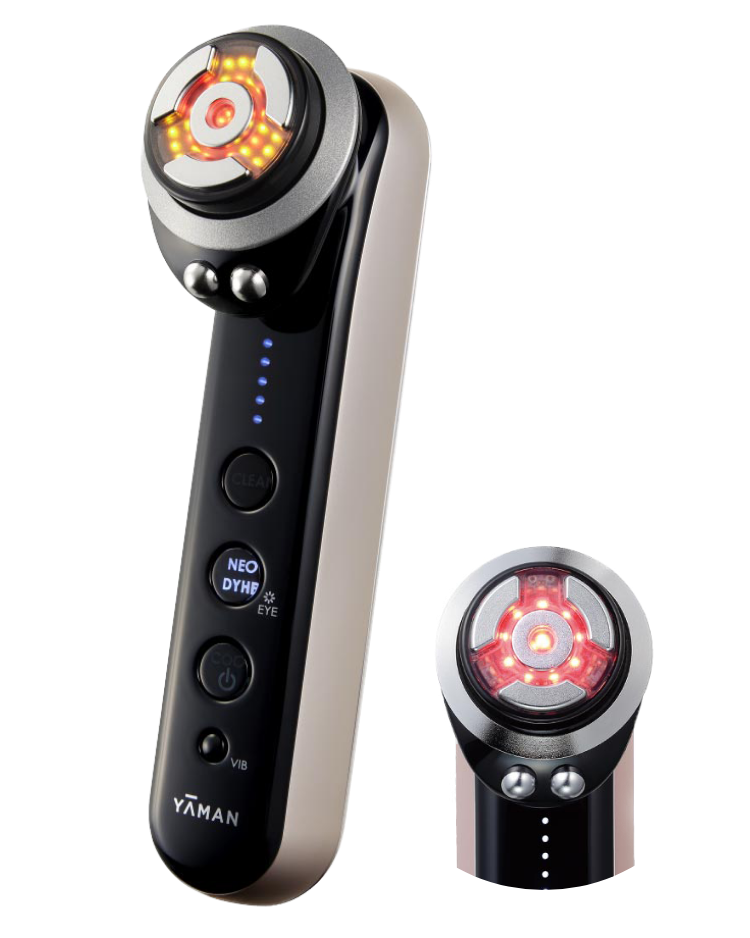 Product Code

M30

Product Name

Photo PLUS Prestige PRO

Functions

RF 3MHz

NEO DYHP

Ion Cleansing

Iontophoresis

EMS

Red-Blue-Orange
LED

Microcurrent

Eye Lift RF

Vibration

Cooling


Global

Recommended Usage

CLEAN, NEO DYHP : 2-3 time a week
EYE MODE : 5 days a week
COOL MODE : everyday

Size

Main body (with cotton stopper): approx. W50 × D65 × H185 mm

Weight

Main body (with cotton stopper): approx. 230g

Country of Origin

Japan

Accessories

Cotton Stopper, AC Adaptor, User's Manual
FAQ
How much lotion or gel should I use each time?

This device is designed to achieve better results with sufficient use of lotions and/or gel.
As a general guide, when using cotton pads, be sure that the entire electrode head is moistened with face lotion. Use about two pearl-sized drops of gel.
We recommend adding more lotion or gel if you feel there is not enough.
Can I use it over a facial mask?

It can be used over a facial mask too (except in CLEAN Mode).
I have a tingly sensation on my skin.

This tingly sensation is caused by electrical stimulation from Ion/EMS/NEO DYHP. It is possible to adjust the level using the Level button. Use the device at a strength that feels comfortable for you. Use only Level 1 upon the first use and until you are accustomed to use.
Why do I not feel warmth of RF when using CLEAN, NEO DYHP or EYE Modes?

Move the electrode head more slowly or press harder against the skin surface. It is also possible that the moisture absorbed in the cotton is insufficient. Add more lotion or gel.
Why can't I see any dirt on the cotton pad?

Dirt is removed even though it may not be visible on the cotton. The amount of visible dirt on the cotton can vary among individuals.
The electrode head does not warm up when I use RF Mode.

The RF does not warm the electrode head. Rather, it uses the power of electricity to warm your skin.
What is the recommended frequency and duration of use?

Recommended frequency of use:
2 to 3 times a week for Clean/NEO DYHP Mode. 5 times a week for EYE Mode. The device can be used daily for COOL Mode.
Recommended duration of use:
CLEAN, EYE, COOL Modes: approx. 3 minutes. NEO DYHP Mode: approx. 5 minutes. Excessive use may damage the skin. The above recommendations are guidelines only; please observe your skin condition and use the device accordingly.