Photo PLUS Prestige SP
Equipped with YA-MAN's original new waveform that specializes in penetration*1. It delivers whitening ingredients*2 deep into the skin offering a lifting care*3.
*1 Up to the stratum corneum
*2 Vitamin C derivative, Tranexamic acid and Niacinamide
*3 Upward movements
Chosen #1 for 4 years in a row
"Marketing Trends Data for Beauty Appliance/Health Appliances 2020" (Fuji Keizai Co., Ltd.)
Performance for 2018–2019
"Marketing Trends Data for Popular Home-care Facial Beauty Device in the New Normal" (Fuji Keizai Co., Ltd.) Performance 2020-2021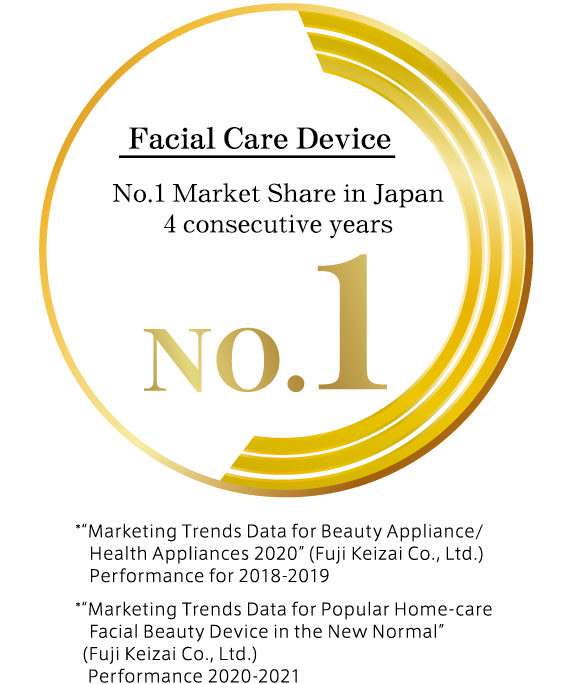 Over 4 million units of RF Beauty Device Series are sold*.
*Number of sell-in units counted from October 2013 to the end of September 2022. (Source: in-house research)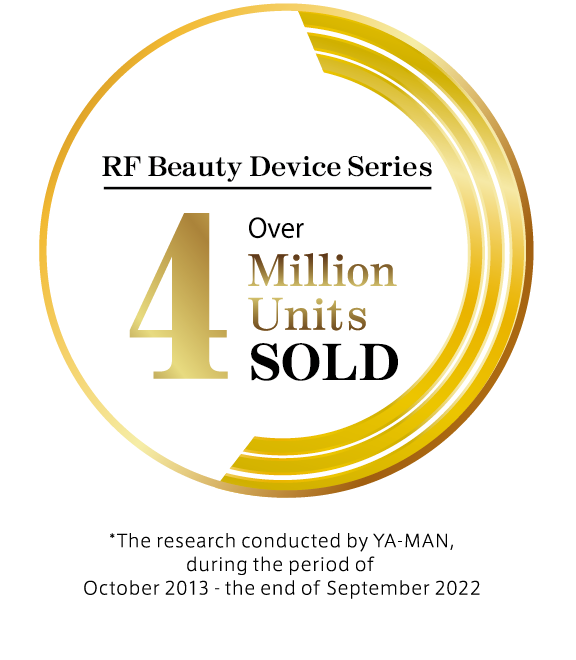 Features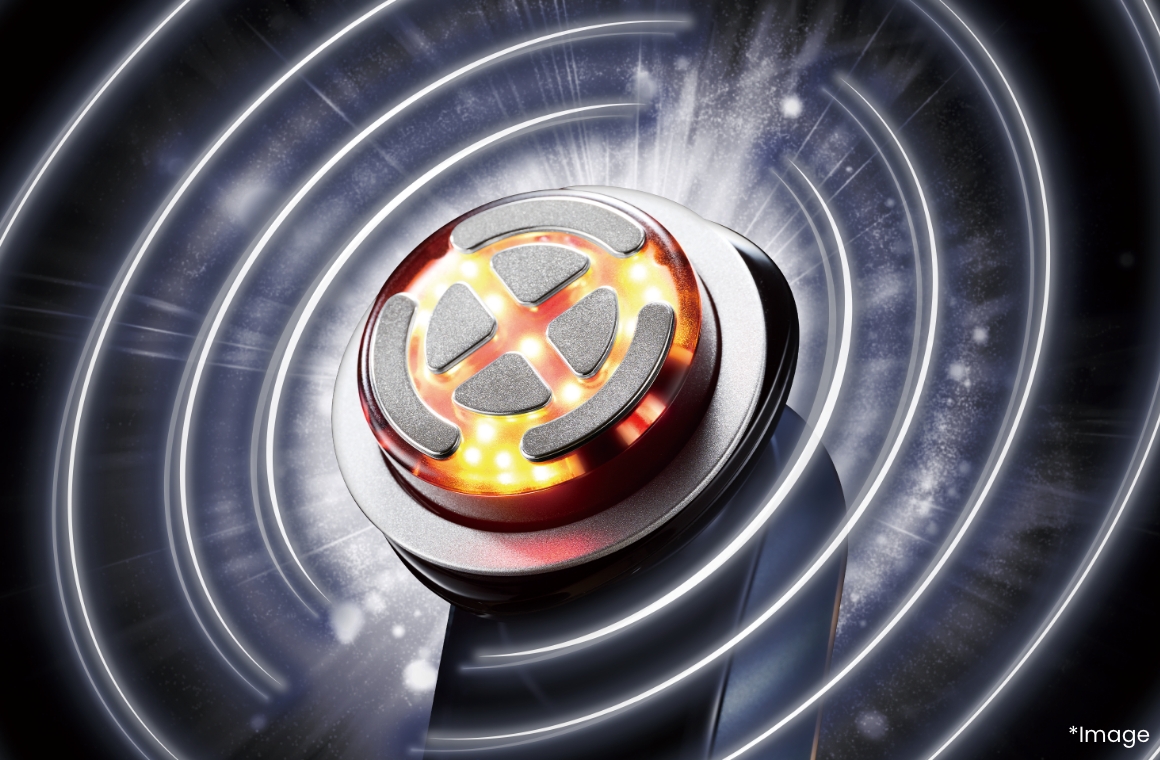 Dynamic Whitening Hyper Pulse
In addition to the conventional beauty technology that penetrates deep into the stratum corneum, we have added a unique waveform that increases the penetration efficiency of whitening ingredients. It delivers beauty ingredients to every corner of the stratum corneum.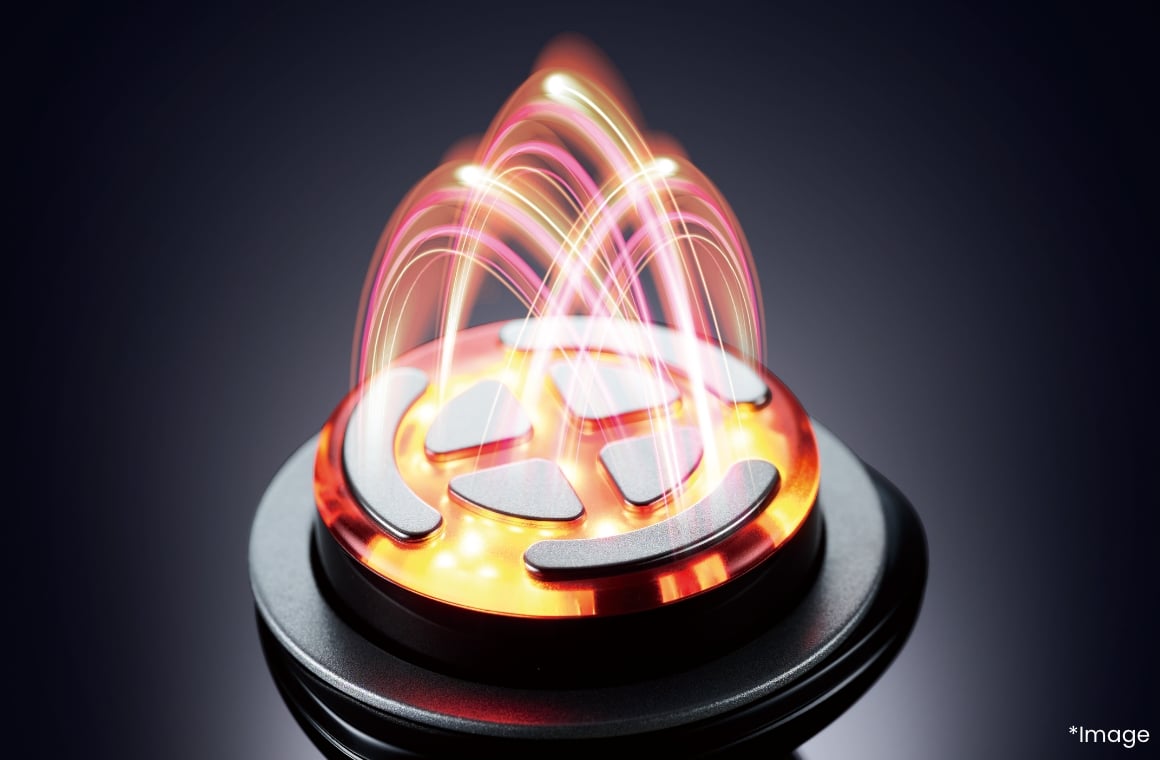 Split Electrodes
The EMS output of the split electrode revolves, stimulating the mimic muscles, while the skin is warmed with a professional level RF (Radio Frequency) of 3 MHz.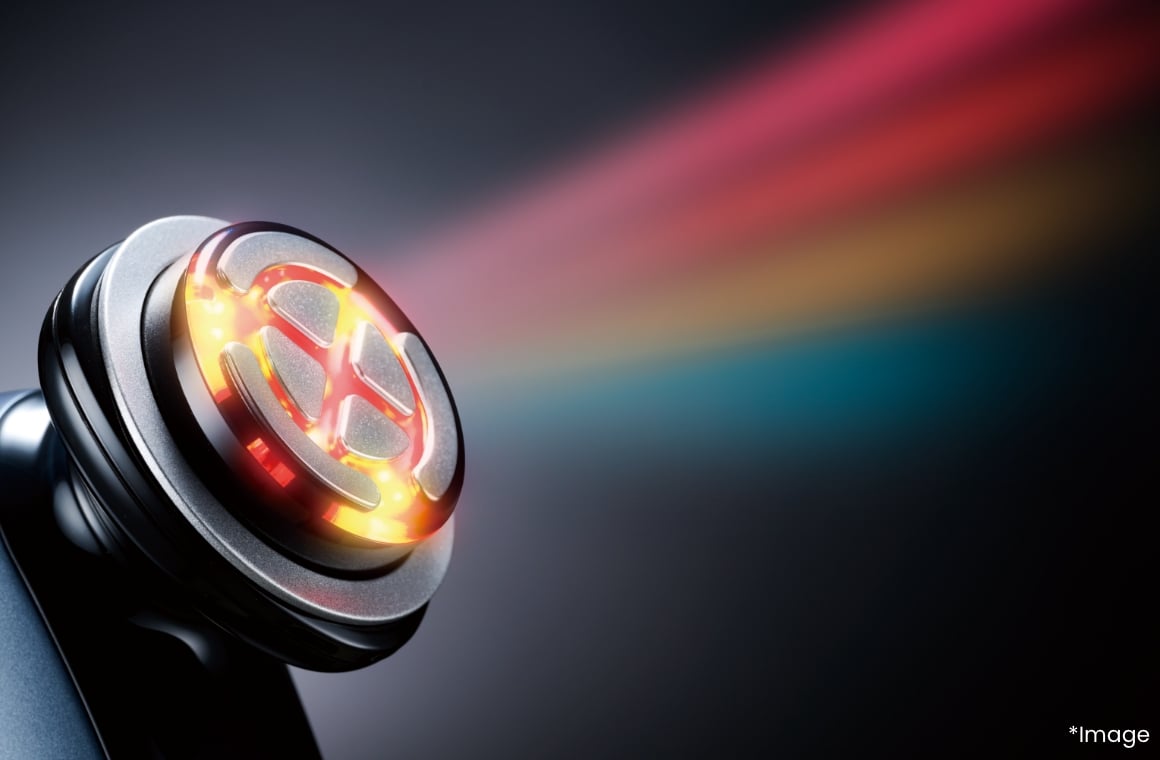 Equipped with orange and blue LEDs, which have anti-aging and calming effects.
MODE
Equipped with professional-grade 3-MHz radio frequency (RF)
CLEAN

RF (radio frequency) gradually warms the skin, adsorbing dirt in the pores.
NEB (New Energy Brightening Pulse)

RF

DYHP

DWHP

LED (Red/Orange)

Provides care deep into the skin*2 using DYHP, DWHP and LED (Red/Orange)
COOL

Provides skin-firming care*1 using Cooling and LEDs (Blue)
EYE CARE

RF for the eye area

Micro-current

EMS for eye area

Provides care that gently warms the eye area using RF (radio frequency)
EMS UP

Provides care for facial muscles using EMS, including high frequencies
A combined use of facial device and cosmetics enhance the penetration effect
[Testing Method] 15 women in their 30s through 50s took part in the study over a period of 4 weeks. The subjects used skin care products only for one side of their faces, and used the device in addition to the skin care products on the other sides. The subjects used CLEAN/NEB (DWHP ON)/EMS UP Mode for 1.5 minutes 3 times a week, EYE CARE Mode for one minute 5 times a week, COOL Mode 1.5 minutes every day, then measured their skin moisture levels after 4 weeks.
* Source: Japan Clinical Trial Association
* Results differ among individuals.
SPEC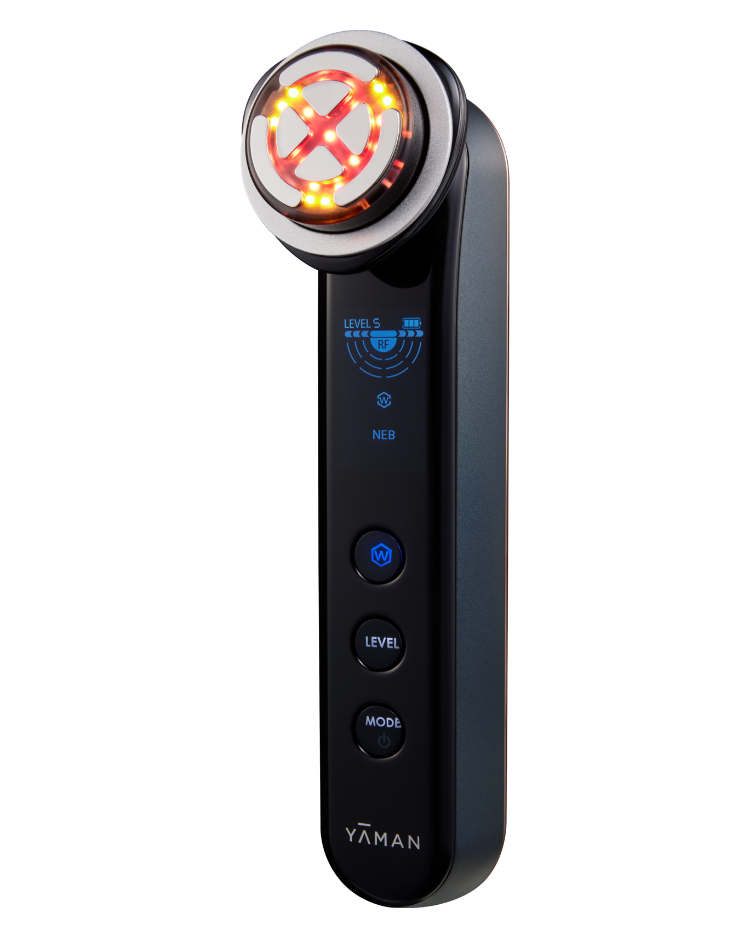 Product Code

M22

Product Name

Photo PLUS Prestige SP

Functions

RF 3MHz

DYHP

DWHP

Ion Cleansing

EMS

Red-Blue-Orange
LED

Microcurrent

Eye Lift RF

Cooling


Global

Charging Time

approx. 3 hours

Operating Time

approx. 30 minutes

Recommended Usage

CLEAN, NEB (New Energy Brightening Pulse), EMS UP, EYE CARE MODE : 2-3 time a week
COOL MODE : everyday

Size

Main body (with cotton stopper): approx. W52 × D62 × H203 mm

Weight

Main body (with a cotton stopper): approx. 293 g

Country of Origin

Japan

Accessories

Cotton stopper, AC adapter, USB charging cable, User's Manual
FAQ
How much lotion or gel should I use each time?

This device is designed to achieve better effects with an ample amount of lotions and/or gel.
Apply lotion on cotton so that the whole surface of the treatment head is wet.
Use about two pearl-sized drops of the gel.
We recommend adding more lotion or gel if you feel there is not enough.
Can I use this product in the bath? Also, can I wash the main unit with water?

The device cannot be used in the bath(bathroom, tub). The main unit is rated JIS-compliant IPX4, which means that it is resistant to splashes but cannot withstand strong jets from showers and faucets, nor can it be submerged in water. The main unit cannot be washed with water as thhis may cause a malfunction of the device. Only the cotton stopper can be washed with water.
Why do I not feel warmth from RF when using CLEAN , NEB or EYE CARE Modes?

Move the electrode head more slowly or press harder against the skin surface.
It is also possible that there is insufficient moisture on the cotton pad. Add more lotion or gel.
Why can't I see any dirt on the cotton?

Dirt is removed even though it may not be visible on the cotton. The amount of visible dirt on the cotton can vary among individuals.
Can I use it over a facial mask

It can be used over a facial mask too (except in CLEAN Mode). We recommend using it this way in NEB Mode.