Photo PLUS
A device is born from over 40 years of beauty research.
Complete your basic skincare with 5 treatment modes An all-in-one facial treatment device that is programmed with 6 different technologies for 5 treatment modes.
Photo Plus is an all-in-one facial treatment device that features five functions to clean, enhance product delivery, tighten facial muscles, minimize fine lines and wrinkles, and reduce pore size.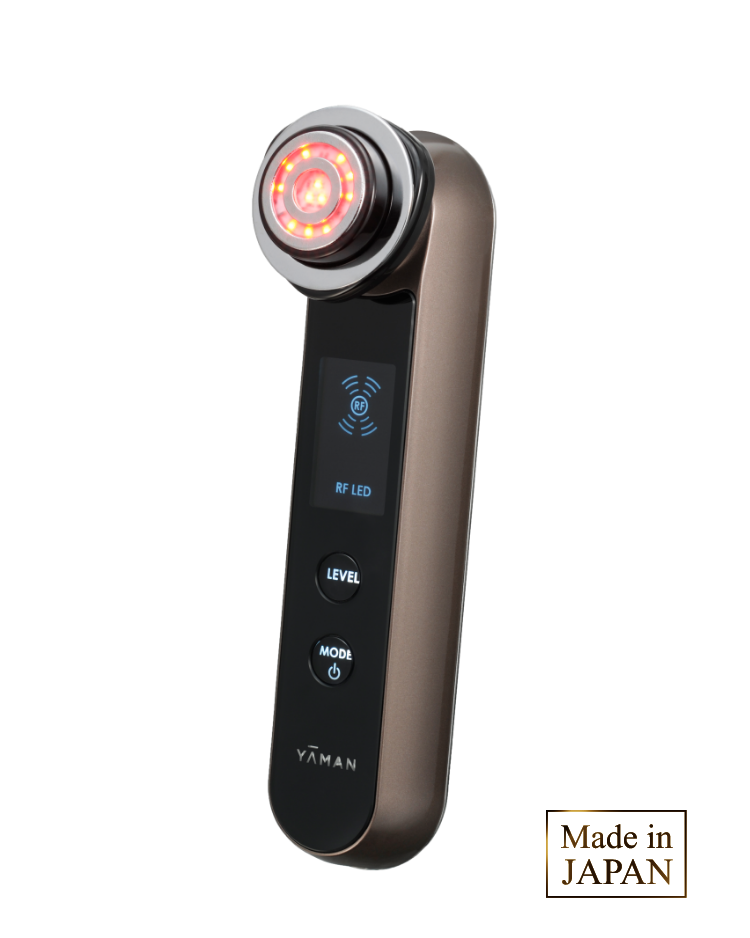 Chosen #1 for 4 years in a row
"Marketing Trends Data for Beauty Appliance/Health Appliances 2020" (Fuji Keizai Co., Ltd.)
Performance for 2018–2019
"Marketing Trends Data for Popular Home-care Facial Beauty Device in the New Normal" (Fuji Keizai Co., Ltd.) Performance 2020-2021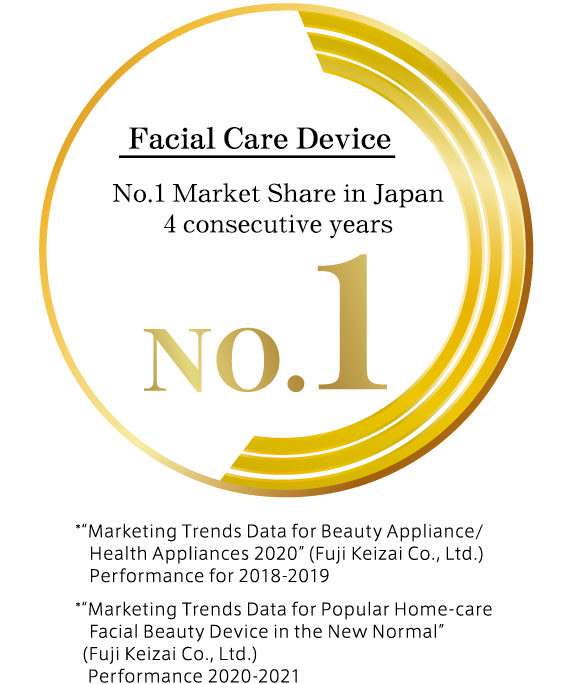 Over 3 million units sold from our RF Beauty Device Series*.
*Number of units counted from October 2013 to the end of May 2021. (Source: in-house research)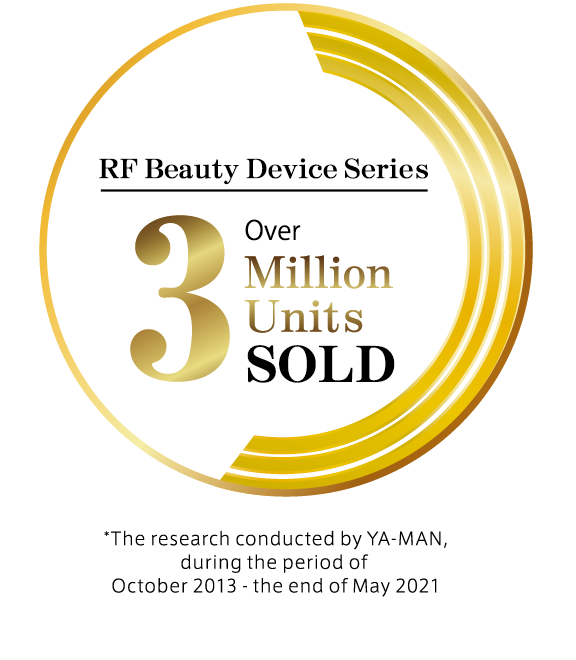 Features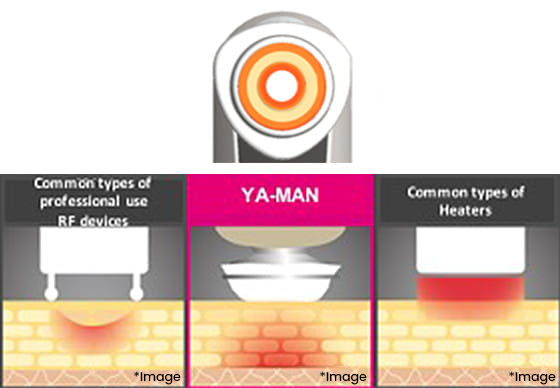 Our Patent technology
Double circle rings with Radio Frequency (RF). The unique patent technology will heat the skin up deeper, broader, faster, and longer compared to other common types of RF devices.
It prepares your face the best condition to receive the treatments.
MODE
CLEAN

RF

Ion Cleansing

Vibration

The warmth of RF and the power of ION will efficiently remove the dirt from your skin.
MOISTURE

RF

Iontophoresis

Vibration

The warmth of RF and the power of ION will enhance the penetration of skincare ingredients.
EMS UP

Stimulates the facial muscles and enhances skin elasticity.
RF LED

Helps to minimize the appearance of fines lines and wrinkles.
COOL

Reduces the size of pores while locking in moisture.
TECHNOLOGY
YA-MAN's original Double-Ring Electrode

Photo Plus is equipped with YA-MAN's original Double-Ring Electrode* to enable you to efficiently use the 1-MHz RF (radio frequency) at home.
The Double-Ring Electrode makes it possible to warm deep and wide areas of skin, giving simple, authentic beauty care at home.

*: Patent acquisition number: 6212608
A made-in-Japan beauty device loved by the world

YA-MAN is the specialist in manufacturing beauty devices that has been leading the industry for over 40 years. Photo PLUS series is a made-in-Japan beauty device developed by YA-MAN. Its cutting-edge technology is applied to home beauty devices.
Enabling users to have authentic facial treatments, the quality of the Photo PLUS series is loved by people throughout the world.
How to Use
Click below to view the "How to Use" video
SPEC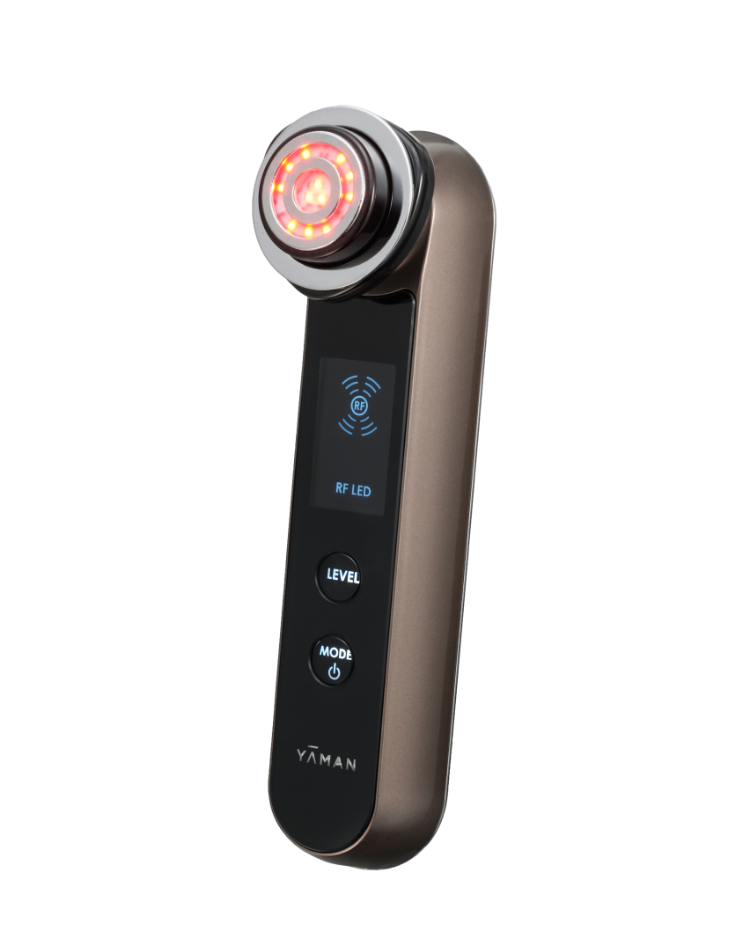 Product Code

HRF-10T

Product Name

Photo PLUS

Functions

RF 1MHz

Ion Cleansing

Iontophoresis

EMS

Red LED

Vibration

Cooling


Global

Charging Time

approx. 2.5 hours

Operating Time

approx. 40 min.

Recommended Usage

CLEAN, MOISTURE, EMS UP, RF LED MODE : 2-3 time a week
COOL MODE : everyday

Size

Main body (with cotton stopper): approx. W44×D57×H190mm

Weight

Main body (with cotton stopper): approx. 220g

Country of Origin

Japan

Accessories

Cotton Stopper, AC Adaptor, User's Manual
FAQ
How much lotion or gel should I use for each treatment?

This device is designed to achieve better effects with sufficient use of lotions and/or gel. Apply lotion or gel on cotton so that the whole surface of the electrode head is wet. Add more when you feel it is not enough.
Can I use this device in the bathroom?

This product is not waterproof. You should not use it in the bathroom or in humid areas where it may get wet.
Why does my skin blush after use?

This is due to using RF for deep heating. If it bothers you, use the COOL mode or apply blue ice to cool down your skin.
Why do I feel a tingly sensation on my face and hands?

This is electrical stimulation from Ion Cleansing, Ion Moisture, or EMS and is normal. You can adjust to a comfortable intensity level using the LEVEL button. Always start at Level 1 for your first treatment or until you get used to the operation or treatment.
Why do I not feel warmth when using RF cleansing, RF moisture, RF EMS UP, or RF LED mode?

Move the treatment head more slowly or press harder against the skin surface.
It's also possible that the cotton is too dry, so you can add more lotion or gel to moisten the cotton. RF repeats, turning on and off during treatment. When the [RF] symbol appears, RF is on.
Why can't I see dirt on the cotton?

Dirt is removed even though it may not be visible on the cotton. The amount of visible dirt on the cotton can vary between individuals.
Why does the head not get warm in RF?

RF is designed to electrically warm the skin tissue, not the treatment head itself.